Recycle With RAS
We want those RAS empties and you will be rewarded for every empty you send our way!
100% of the packaging material that we use is either recyclable and/or reusable. We always strive to make choices that would not only benefit our customers but our beautiful planet too. Reducing our carbon footprint on Earth is our way of doing things to make this planet sustainable for generations to come.

We bring forth to you - Recycle with RAS.
Under this initiative, we will collect  your RAS empties so that we can recycle them for you. By recycling, we wish to reduce the amount of packaging waste from ending up into the landfill and reuse the resources where possible.
We hope through this we can all make environmentally conscious choices, we are ready to do our bit. Are you?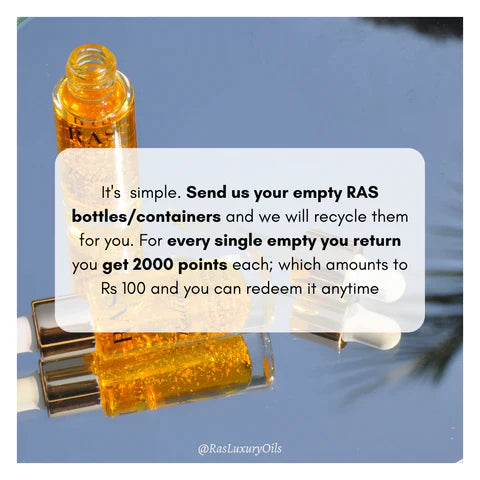 What's in it for you ?
Utter satisfaction of helping save Mother Earth by reducing packaging wastage by helping us recycle your empties
ANDDD some great REWARDS such as:
For every single empty you return you get 2000 points each = Rs 100 which you can redeem anytime!

All you need to do is:
Fill this google form: Please help us by filling up this short form which will then help our team get back to you with a pick up label:
Create your pickup now
Pack your empties in a box
Paste our RAS address on the top of the box
Wait for our Bluedart partner to come collect that box. That's all!
The moment we receive your empties, we'll review them and credit the points in your account!
Happy Planet
Happy You
Happy RAS
For any assitance feel free to dm us/ Call us on 9329773003 or email us on care@rasluxuryoils.com