Wellness body oil
Regular price
Sale price
MRP: Rs. 990.00
Unit price
per
Inclusive Of All Taxes
A calming and relaxing oil formulated in a base of organic Sesame and Moringa oil along with power packed extracts of Ashwagandha, Ginger, Giloy,Turmeric, and essential oils like Nutmeg, Eucalyptus and Rosemary proven to alleviate body aches, relax muscles while leaving the skin feeling hydratedand supple. This massage oil can benefit the young and the elderly alike.
Benefits
Soothes tired muscles promoting relaxation

Eases body pain and aches

Anti-inflammatory and reduces swelling

Uplifts mood and instills lightness of being
REVIEWS

Arpita

I was searching for something like this from decades. I am a yoga teacher and I do lots of physical activities. This oil at night or before bath helps relaxing my muscles. Love the smell of it as well. A must buy, if you are a new mom 😊

Pragya Chopra

Guys, its been 10 days , my family is been applying this . And its really effective. It works. Its just that u need to properly massage this oil so that it penetrates into the skin and will work definitely. Its an honest review. Will give relief to your muscles & pain. AND When u apply at night, u get an amazing sleep instantly believe me. Its better when the other person massge this oil. The massaging will be more proper. THANKS RAS. KEEP GROWING!!
HOW TO USE

Massage all over your body until fully absorbed to restore and rejuvenate the tired muscles.
You may rest or follow it by a warm bath for a relaxing experience.
INGREDIENTS IN FOCUS

Hempseed oil- Reduces inflammation and eases pain

Nutmeg- Helps to reduce body inflammation.
 

Ashwagandha- Helps in nourishing tissues and bones and also reduces muscle spasms.

Eucalyptus & Rosemary Essential Oils- Uplifts the mood
 
COMPLETE INGREDIENTS

Sesamum (Sesame) Oil, Cocos Nucifera (Coconut) Oil, Moringa Oleifera (Moringa) Oil, Cannabis Sativa (Hempseed) Oil ,Withania Somnifera (Ashwagandha), Zingiber Officinale(Ginger),Boswellia Serrata (Boswellia), Tinospora Cordifolia(Giloy), Piper Longum, Trachyspermum Ammi (Ajwain), Syzygium Aromaticum (Clove), , Gokshura fruit (Tribulusterrestris), Menthol Crystals, Ocimum Basilicum (Basil) Curcuma Longa (Turmeric), Eucalyptus Globulus (Eucalyptus ) Essential Oil, Myristica Fragrans (Nutmeg) Essential Oil Zingiber Officinale (Ginger) essential Oil, SyzygiumAromaticum (Clove) Essential Oil, Cymbopogon Citratus(Lemongrass) Essential Oil, Mentha Piperita (Peppermint) Essential Oil, Juniperus Communis L (Juniper Berry) Essential Oil, Salvia Rosmarinus (Rosemary) Essential Oil, JuniperusVirginiana (Cedarwood) Essential Oil, CinnamomumZeylanicum (Cinnamon) Essential Oil.
ADDITIONAL INFORMATION

Keep the product in a cool dry place away from sunlight and closed at all times.

For external use only. Avoid contact with eyes, If contact occurs, rinse thoroughly with cool water. Conduct a patch test on your skin before proper application. To test your skin for allergy, apply a 1-inch patch on the inner, lower arm, rub it in and leave for 24 hours, observing any signs of a reaction. If you are already using several actives in your regime, kindly consult the team for details.

As our products are handcrafted with natural & organic ingredients in small batches, there may be slight variations in their color and aroma.

Refer to brand website for updated complete ingredient list.
FAQ

Can I keep this oil overnight?

Yes these are moisturizing oils and can be kept overnight.

Is it suitable for sensitive skin?

Yes these are suitable for all skin types. However we recommend you do a patch test before applying it to your body. 

Can it be used in summer?

These oils are lightweight and have non-sticky formulation which makes them suitable for summer as well.
 

Can it be applied on the face also?

It is not recommended for use on the face. You can go for our face elixirs or face oils that are best for facial skin.

Can it be used by elderly people?

Yes, these can definitely be used by elderly people as well.

I am pregnant? Can I use this oil?

Yes, our formulation is safe for pregnant women. In any case, it is always worth   checking with your gynaecologist or dermatologist before you introduce any new  skincare products or ingredients in your routine.
View full details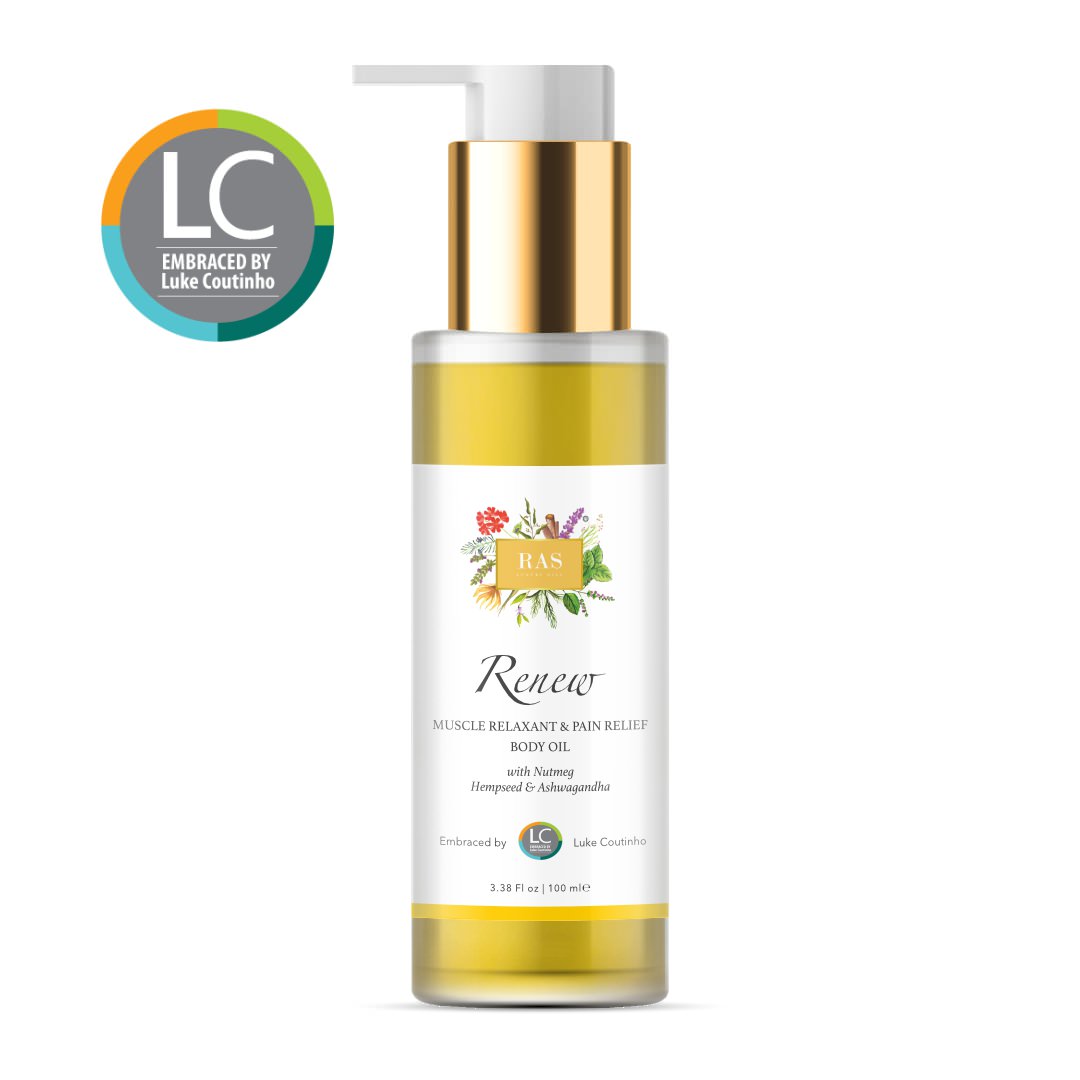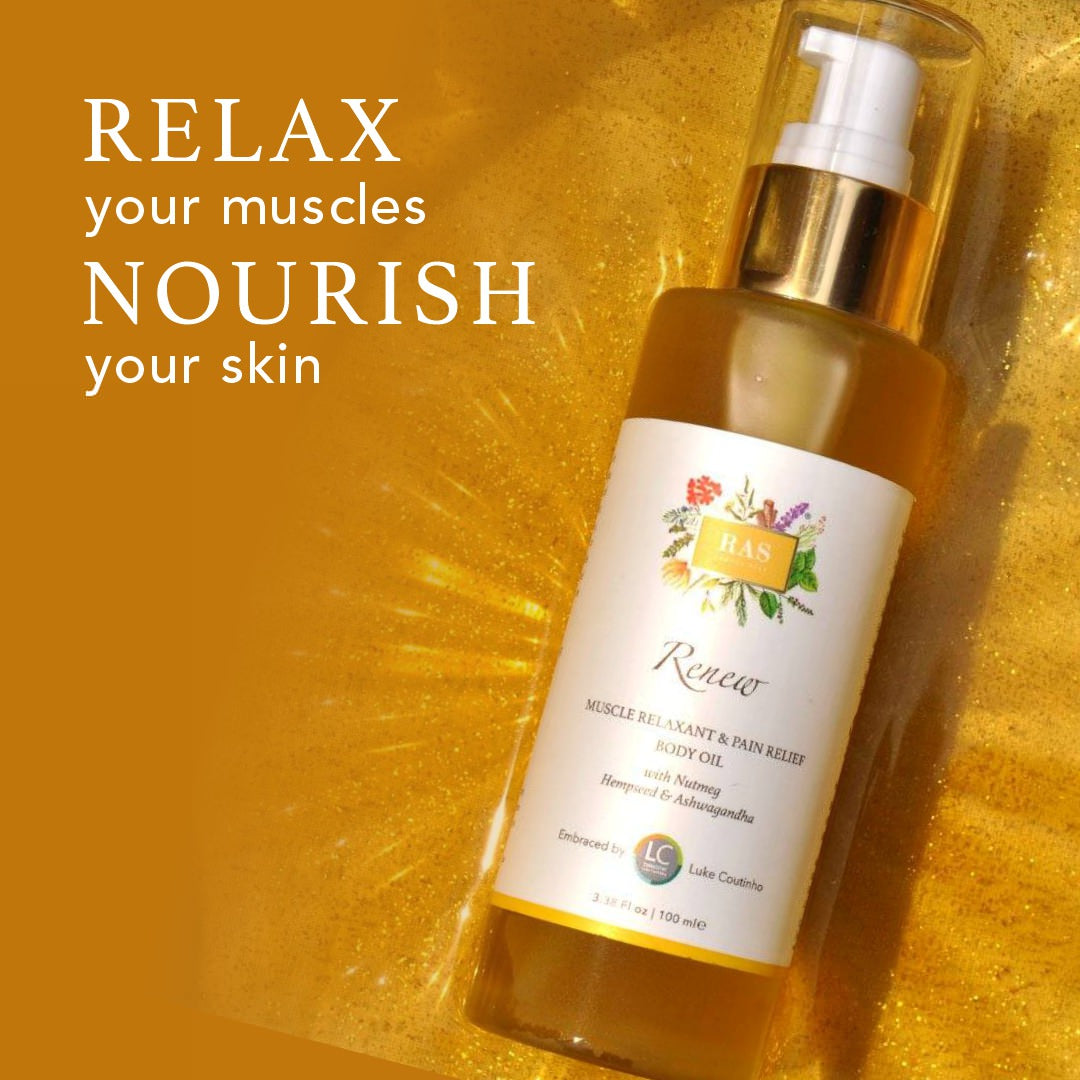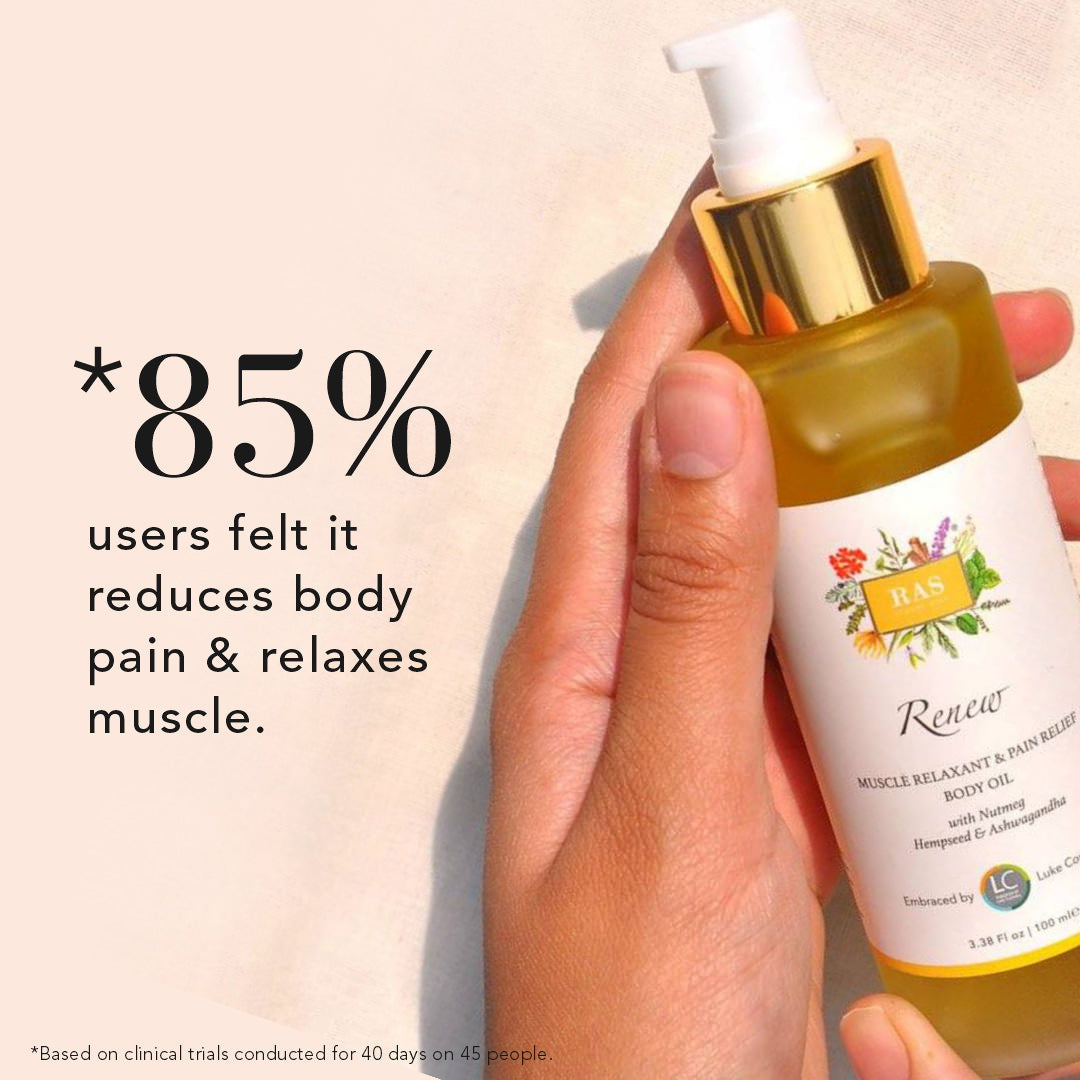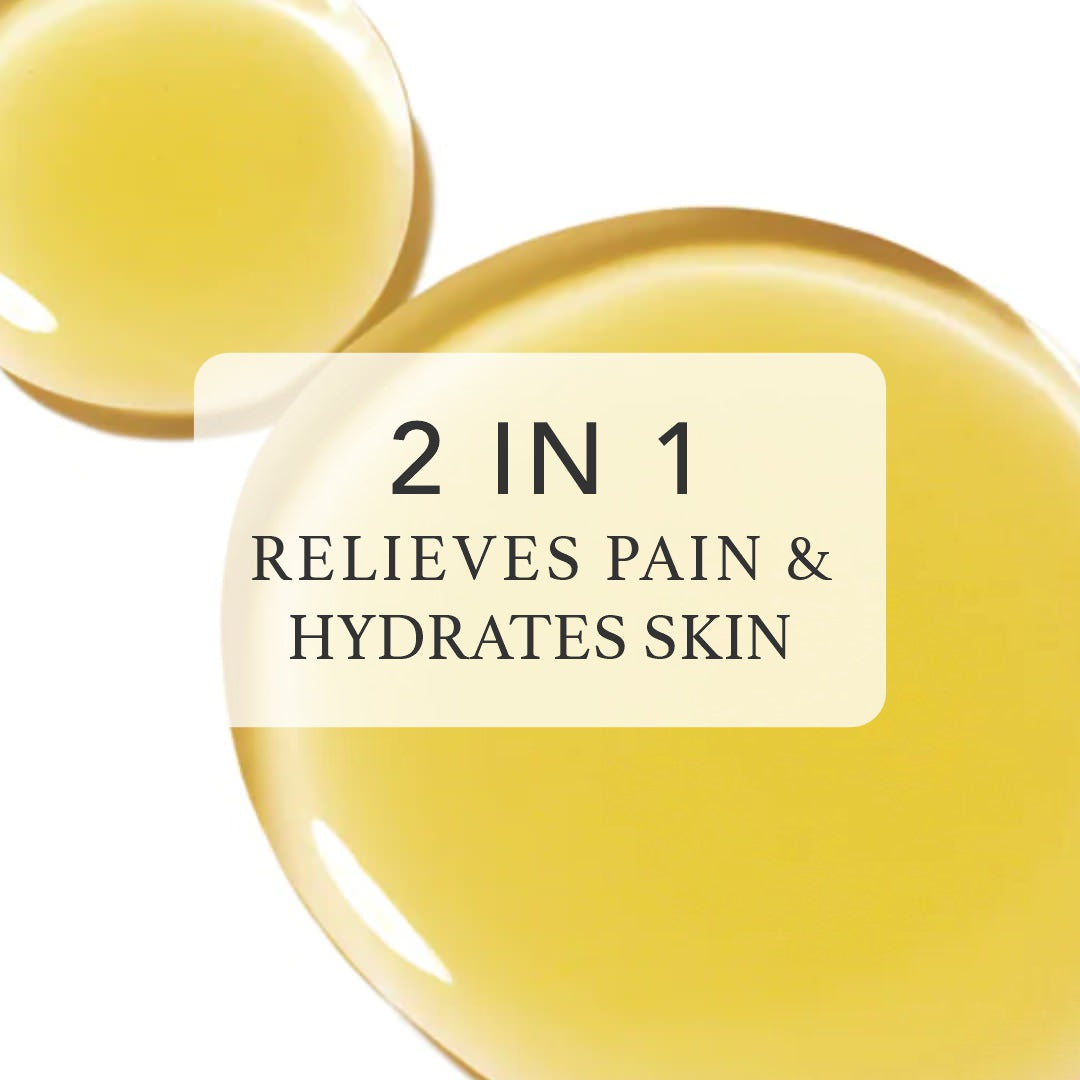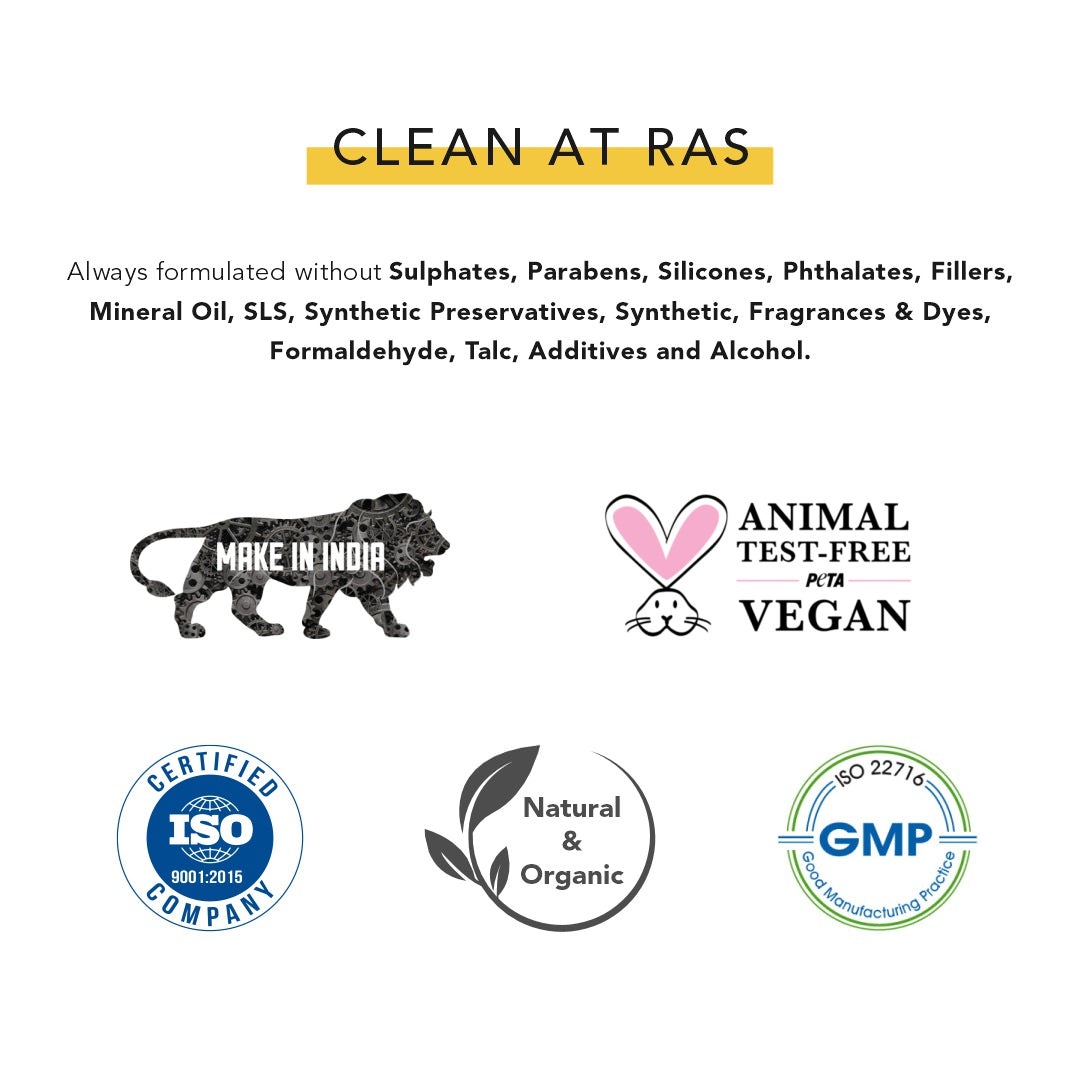 The best pain relief oil
The best pain relief oil, it helps really on my periods days whenever i have cramps or pain i m really dependent on this lovely oil. Happy with the purchase. Also i m never looking back ever since i m a big fan of Ras and how every product work on the skin.
A great buy!
Bought this for my mum for her various aches and pains. She loves the smell and finds relief from her discomfort.
RAS Oil
One of the best natural ways of soothening experience from RAS oil including headache. It helped us in many ways - pain relief, calming the body tone, relaxing in less time, relief from anxiety, improve in Skin tone. There are many which we experienced and cannot convey everything here
Renew Muscle Relaxant & Pain Relief Body Oil
Great Pain relief Oil
Really very effective body pain relief oil. Price is some what on higher side. But buying at some scheme will be okay.
Farm To Face Skincare
Our Philosophy stems from the desire to enchant our patrons with products containing only the 'ras' of nature and nothing else. Being the first 'farm to face' venture in India with our own farms and research lab, we make available the luxury of a beauty regime in the form of 100% pure, natural products!
Read More