Pure Plant Oil
Regular price
Sale price
MRP: Rs. 1,690.00
Unit price
per
Inclusive Of All Taxes
Quantity: 35ML
A lightweight and non-comedogenic oil derived naturally from Olives, this Squalene Oil boosts hydration and improves skin from deep within. It is similar to the natural oil that our skin produces and thereby, works wonders on regular usage. Often called the skin brightening oil, it locks in essential moisture for soft, plump, and healthy skin.
Benefits
Works as an excellent moisturizer and nourishes the skin from deep within 

Reduces fine lines and wrinkles 

Safe for all skin types, including sensitive skin

Improves skin radiance and texture

Minimizes pores and improves skin health
HOW TO USE

Massage your body thoroughly with a generous amount of oil in large, circular motions until absorbed.
Take a few drops in a cotton ball and use it as a natural makeup remover and cleanser.
Add 10-20 drops of essential oil of your choice to 100 ml of your carrier oil.
Add a few drops to your store-bought moisturizer or face cream and use it daily.
INGREDIENTS IN FOCUS

100% Pure Olive Squalene- Olive squalane is a luxurious emollient derived from squalane containing a wide range of properties beneficial for the skin, hair, nails, and lips.
COMPLETE INGREDIENTS

100% Pure Cold-Pressed Olive Squalene Oil.
ADDITIONAL INFORMATION

Keep the product in a cool dry place away from sunlight and closed at all times.

For external use only. Avoid contact with eyes, If contact occurs, rinse thoroughly with cool water. Conduct a patch test on your skin before proper application. To test your skin for allergy, apply a 1-inch patch on the inner, lower arm, rub it in and leave for 24 hours, observing any signs of a reaction. If you are already using several actives in your regime, kindly consult the team for details.

As our products are handcrafted with natural & organic ingredients in small batches, there may be slight variations in their color and aroma.

Refer to brand website for updated complete ingredient list.

This product is manufactured by:

RAS BEAUTY PRIVATE LIMITED C/o Adithya Bio-Tech Lab & Research Pvt Ltd, 14&15/7, Nandanvan Road, Chandanidih, Raipur, Chhattisgarh, India, 492099.

Country of Origin- IN
FAQ

Can I use olive squalane oil everyday?

Yes it can be used everyday.

Do I have to mix it with any other oil?

You can apply it directly. If you want you can include it in your DIY masks, creams, body moisturizers or lotions to enrich their nutrient level. You can also use it as a carrier oil to dilute your favourite essential oils before application. 

Will this oil make me breakout?

The pure plant oil is non-comedogenic and will not cause acne. Regardless, if you have acne-prone skin, it is always best to consult your dermatologist before including a new product in your skincare routine.

Is it suitable for all skin types?

Yes, it is suitable for all skin types.

Can I use it directly on my skin?

Yes it can be used directly on your skin and your scalp too.

I am pregnant. Can I use the oil?

Yes, our formulation is safe for pregnant women. In any case, it is always worth checking with your gynaecologist or dermatologist before you introduce any new skincare products or ingredients in your routine.

Which step of my skincare routine does olive squalane oil fit into?

This oil can be used in multiple ways depending on your need. As an after bath moisturization use it on cleansed wet skin to seal in moisture and add shine. As a massage oil, mix it with a few drops of your choice of essential oil and massage gently. Leave on for at least 30 minutes followed by a warm bath. For scalp, massage a few drops on the oil with your fingertips and leave on for 2 hours before a hair wash. 

Why is cold-pressed important?

In the cold-pressed method oil is obtained from the first press of the ingredient, without any external application of heat. Such oils are richer in nutrients and antioxidants compared to hot pressed oils which lose their nutritional value due to exposure to heat.
View full details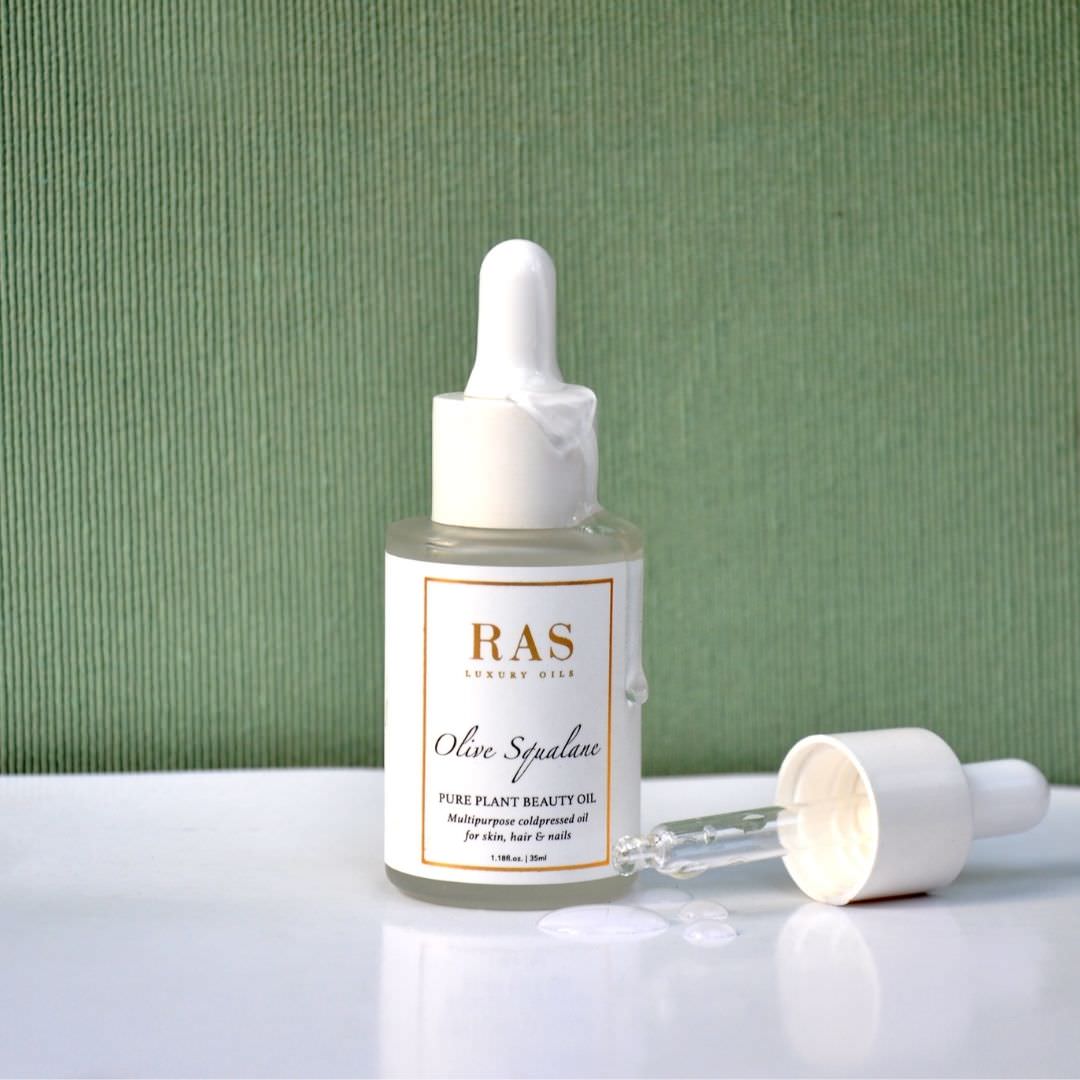 "I've been using Olive Squalane Pure Plant Beauty Oil for a few months now, and I've noticed a huge improvement in the texture and appearance of my skin
"Olive Squalane Pure Plant Beauty Oil is one of my favorite beauty products! The oil is so lightweight and absorbs quickly, so it doesn't leave any residue or stickiness. But it still provides amazing hydration and nourishment for my skin. I also love that it's fragrance-free, so it doesn't compete with any other scents I'm wearing. The packaging is also eco-friendly, which is a huge plus. Highly recommend for anyone looking for a simple and effective beauty oil."
"I'm always on the lookout for natural and non-toxic beauty products, and Olive Squalane Pure Plant Beauty Oil definitely fits the bill. The oil is pure and simple, but it's incredibly effective at hydrating and rejuvenating my skin. I love that it's versatile and can be used on my face, body, and hair. And a little goes a long way, so the bottle lasts a long time. Highly recommend for anyone looking for a natural and multi-purpose beauty oil."
"I have dry, sensitive skin, and I've tried a lot of different products to help hydrate and soothe it. Olive Squalane Pure Plant Beauty Oil is by far one of the best products I've ever used! The oil is gentle and nourishing, and it doesn't cause any irritation or breakouts. I use it as a daily moisturizer, and my skin looks and feels so much healthier and smoother. Plus, the oil is eco-friendly and cruelty-free, which is important to me. Highly recommend!"
Olive Squalane Pure Plant Beauty Oil is a game-changer for anyone looking for a natural and effective way to hydrate and nourish their skin. The oil is lightweight and absorbs quickly, leaving my skin feeling soft, smooth, and rejuvenated. I love that it's made with only one ingredient - pure squalane from olives - so I know exactly what I'm putting on my skin. Highly recommend for anyone looking for a simple, effective, and natural beauty oil.
Farm To Face Skincare
Our Philosophy stems from the desire to enchant our patrons with products containing only the 'ras' of nature and nothing else. Being the first 'farm to face' venture in India with our own farms and research lab, we make available the luxury of a beauty regime in the form of 100% pure, natural products!
Read More